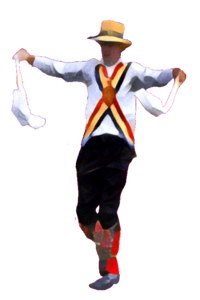 A bit about Mendip Morris
Founded in 1956, originally as a male only side known as the Mendip Morris Men, we have regularly danced throughout the North Somerset area performing the traditional dances of the Cotswolds.
In February 2019 we amended our constitution to welcome women into membership and adapt our name to Mendip Morris, dropping the 'Men' from our title.
The Mendip Morris can be identified by their red, gold and blue baldrics (crossed sashes), adorned with the King Alfred's jewel at the back and the Somerset Wyvern at the front. Black breeches, bell pads and gaily decorated straw hats complete the outfit.
We are sometimes accompanied on our outings by three other traditional Morris characters:
Our Fool, who wears a smock, odd coloured socks and a very fetching black top hat; a manic spotted horse called Horse (why complicate matters?) who is really very friendly; and our much loved and often photographed Green Man who changed colour from playing with too many chemicals when he was a science teacher.
Each summer on Thursday evenings we dance outside pubs and village centres around the Mendip Hills and the North Somerset area. We consider we are one of the most travelled Morris Sides. Since the mid 1990s we have made 40 trips abroad and in that time have danced all over Europe. These trips have included performing live on German Television, being the cabaret at The Ball of Nations in Trier and we think being the only Morris Side to dance in the European Parliament Building in Brussels.
To find out more about Mendip Morris  visit the website http://mendipmorris.org.uk/