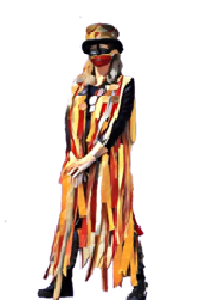 A bit about Powderkegs
The Powderkegs began in 2001 from a small group of "groupies" of the Chapel-en-le-Frith Morris Men, they dance Cotswold in a men only side. We saw Border Dancing at weekends away and it looked great fun – we wanted to have a go. We live near the Peak District and could not find a local side to join so we decided to start our own. We went for a workshop with the Flagcrackers who taught us 2 dances to get us going – Upton stick and Hey up Joe. We headed back for the hills with 12 willing (well most of them were) dancers and musicians.
We take our name from local Gunpowder Mills. The gunpowder factory (which may date back to the 16th century) now lies under the waters of Fernilee Reservoir. A serious explosion in 1909 killed three men, but the factory was still very active during the First World War (1914-1918).
This probably a good thing as pyrotechnics has always had an appeal!
We dance mainly traditional Border Morris style which is noisy, colourful and explosive! We have a mixed side (men and women dancing together)
We paint our faces, wear rag jackets and jingle bells on our legs.
To find out more about Powderkegs  visit the website www.powderkegs.co.uk