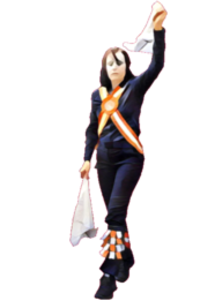 A bit about Makeney Morris
One dark and stormy night in the winter of 2012 three friends met in a cosy Derbyshire pub for merriment and good beer. The flagstone floors were warmed by the open fire and the smell of food and an obscenely large selection of real ales tantalised their nostrils. As the icy winds whistled outside their thoughts turned to lazy summer days with idyllic scenes involving ice cream and festivals and disturbing the peace with the clash of sticks and the jingle of bells. In a moment that will go down in history (well ours at least) two words drifted into the conversation Morris Dancing and thus Makeney Morris was conceived.
Members have been, or are active members of other sides. These Morris dancing evangelists went forth and dragged Morris virgins (male and female) into our world until the side was made up of equal numbers of experienced and new dancers alike.  Over the coming months Makeney Morris was pieced together and was officially formed in September 2013 with practices taking place in Belper, Derbyshire.
Now we're six years young and we're still going strong. We've danced at countless pubs, festivals, villages and city centres. We're very proud of our side and of our individual members. We have a strong musicianship within the side from well-known local folk musicians to members of orchestras and touring bands. All of our musicians are dancers too (the talented swine's).
But there is one thing that seems to surprise people about us more than anything else. It isn't the black kit, the mixed side or the 'tweaking' of traditions or how high we can jump. It's our age. You see, amidst a swathe of declarations that Morris Dancing is in decline and that young people aren't interested we formed a side with an average age of 30.
So next time you're in Derbyshire come and find us. We'd love to see you. We look forward to meeting new sides and seeing old friends in the coming years.
To find out more about Makeney Morris  visit the website www.makeneymorris.org.uk