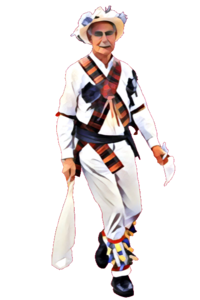 Introduction to Winster Morris Dancers
A recording of our dance Jo P, which was written just after the team restarted to dance for the Queen's Silver Jubilee celebrations.  Jo P was a former team musician Jo Raines, who was the village greengrocer (perhaps famous for his peas?)
A recording of Winster Gallop being danced in the Stadtplatz Bad Dürkheim in the Rheinland Pfalz, South West Germany, where we have a link with the Trachtengruppe Ungstein, who we are dancing with in the recording.  Winster Gallop is always our final dance in a display, where we ask the audience to join us.
A bit about Winster Morris Dancers
When Cecil Sharp visited Winster in 1908 and documented the local Morris dances the tradition was already long established.  Although Winster Morris ceased to dance soon after Sharp's visit in 1908, there was a revival of interest in the 1920s and again in the 1950s.  Then in 1977 Roy Witham, Dave Bathe and Ian Russell re-established the team and it has danced every year since then – the centrepiece of the dance year being Wakes Day in Winster when we dance all round the village throughout the day.  We welcome both men and women and dance as a mixed team, a women's team and as a traditional men's side.
To find out more about Winster Morris Dancers visit the website www.winstermorrisdancers.org/